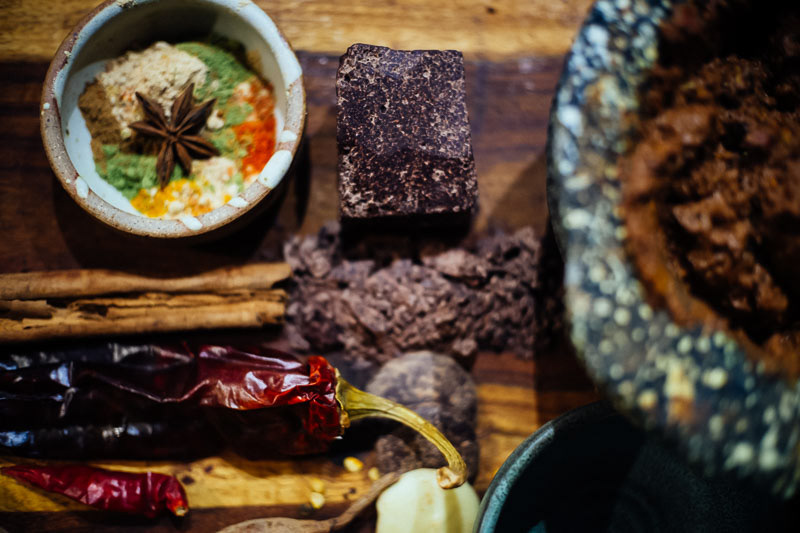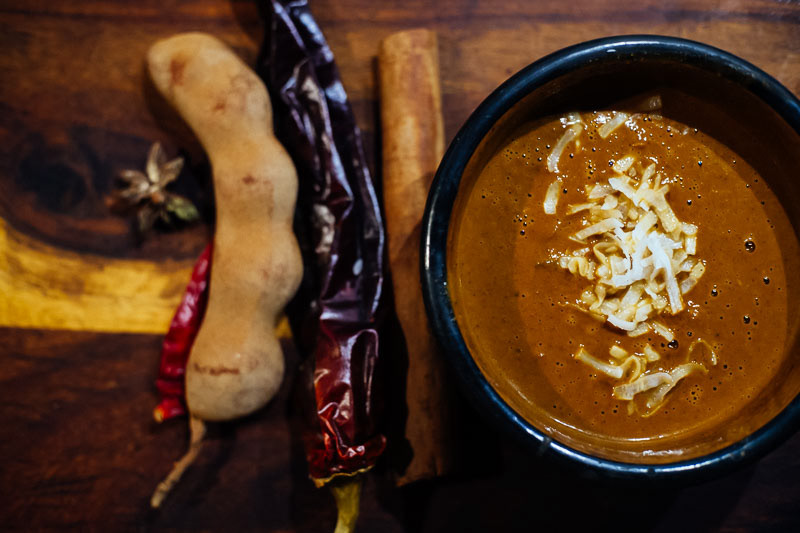 I was gonna experiment with making my own corn tortillas today.
I thought "Yes, I'll make tortillas!
But first: Cacao!"
Inspired by recent phone conversations with my 78 year-old grandmother, I made this spicy molé-based batch to warm me up on an oddly chilly spring day in Austin, Texas.
And just like conversations with Grandma, this one takes time.
And also like Grandma, this batch has too many layers of complexity to un-peel on the first go. Long simmers will only deepen the complexity of this thinned-out version of the 
Holy sauce
.
This first attempt was made out of excitement and wasn't simmering all day so the flavor is …like Grandma's life…intense.
(more simmering will round out the sharp pepper).
I recorded 4 hours of conversation with her.
She really was a nazi-feminist before her time.
"I may be a Christian lady, but I wasn't gonna let NO MAN tell me what to do. EVER!"
I learned where I get my disdain for authority-
My knack for running away-
My drive to explore-
And my love for disruption.
She told me about her mother's life.
How her mom was a migrant-worker with 7 kids and a husband that beat her.
She also spoke of the 3 babies her mom watched die in her arms because they couldn't afford to see a doctor.
She described a mother that had no education, but she succeeded anyway.
Equipped with a big heart, a quick wit, and a desire to keep moving forward.
And my grandmother laughed and laughed as she described the time she pulled a chef's knife out on her abusive step-father when she was 13 years old.
In his sleep…yep.
Imagine waking to the sound of a knife's edge scrapping your neckline–
And just seeing a wide-eyed, tight-lipped angry teenager
thirsty for revenge. That's my grandma.
"He leff my mom after thatd—pues' he was too scared to sleep en da house!
I guess I was too mush for heem." She chuckled.
My grandmother corrected my own stories of my Grandfather.
She also asserted her stance in the family (why certain things happened )—
And…
She painted a different perspective of the man that sexually abused me when I was a child.
I heard a little bit about the child that he was before he became the man I knew.
And I heard her love for that child…
And about his difficulties growing up in a time when Autism wasn't a word.
No resources.
No specialists…
Just a couple of poor brown parents born after the Great Depression trying to get ahead in a white-dominated world.
I thought of my own child.
I heard her.
And I saw him.
Fair warning:
This isn't Becky's creamy latte-cacao drink.
This is medicine.
It's Intense.
But it has to be— because there's lots of letting go that needs to happen
before acceptance can take place.
I never did get around to making those scratch corn-tortillas.
But something tells me
That once this molé recipe is tweaked a little more,
it will be time to work on the tortillas that
this molé will eventually blanket.
Next time, I'll omit the coconut flakes.
Ceremonial-grade Cacao de:
Ecuador y Peru
Ecuadorian cacao butter
Columbian cacao butter
Canela sticks (Ceylon cinnamon)
Cumin
Black Peppercorns
Five-star anise
Clove
Fresh Tumeric
Dried chilis: Guajillo y chile de abor
homemade tamarind paste
adobo
Additives:
Maca Powder
Moringa Powder
Tumeric powder
Ground Cinnamon
Cayenne Pepper
____
Process
To get this going, I piggy-backed off my normal steeping spice-batch but tripled the amount so that I could make a paste with the steeped peppers and spices in my molcajete using a tamarind paste I made the night before as a base.
Heat from cayenne and chiles de árbol will definitely shake up your insides—activating your gut, opening up your blood vessels and fueling your heart to pound like thunder.
Tangy tamarind brightens up the base,
allowing the vanilla notes of the canela
to peek out and invite you to stay, with a hug.
The dried guajillo chiles, cumin, turmeric and adobo root you into your seat.
This drink makes me think of the times
my grandmother would "punish" my cousin and I
by making us watch the informercials
Of starving kids in Africa
whenever she felt we were too spoiled.
As I sipped this, I imagined my grandmother as a child,
living with her mom
& 6 brothers and sisters
in a single dirt-floored room inside server's quarters
on a farmhouse
while they worked out in the fields;
Picking cotton and cucumbers.
Ceremonial-grade Ecuadorian cacao is heavy in this base.
It's a little like feeling strong,
calloused hands
graze across your back.
But cutting it with creamy Peruvian cacao lends to feelings of safety.
If you wanna try this out, remember:
this isn't hot chocolate.
It's medicine.